"The Deens Academy 's vision is to empower each child to achieve academic, physiological and artistic excellence through, a creative outlook and a balanced point of view, in an environment that is stimulating, challenging and grounded in values. Every child passing out of The Deens Academy is a complete individual, ready to meet the challenges of an ever-changing global environment."
KiDeens Ramgondanahalli  is located near  Varthur old Airport road is a pure kindergarten environment which is feeder school for Deens Academy.
The school caters to children from ages 2 years to 6 years (  Toddlers,Playgroup, Lower kindergarten and Upper Kindergarten) and children graduate into Grade 1 at the Deens Academy Gunjur campus after completion of UKG.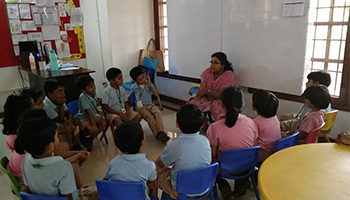 School timings are 08:30am to 12:30pm for Playgroup, LKG and UKG ( bus facility available)
School timings are 09:30am to 11:30am for Toddlers ( no bus facility available)
Application forms for the next academic year will be online from 19th September at 9am.
Application forms will open for Toddlers only. Waitlist for all other grades will be accepted from 1st January  onwards.
School tours and interactions for admission enquiry can be arranged on prior appointment on any Wednesday between 12:30 and 2:30pm.
For applying you would need soft copies of your photographs ( child and parents), birth certificate, aadhar card number and the immunisation record.  After submission there will be an interview call sent by email based on which admission is processed.
Interactions for new applicants would be conducted on the following dates and timings only on invitation
This process is managed by the admissions officer who can be contacted by:
email : admissions@deensacademy.com
telephone : +91806363541941,+91806363530189 (Gunjur Campus)
She will assist you during the admission process.
For School tours please call our school number :+918722553786
The selection procedure is as follows:
Application for the academic year 2019-20 is processed for kindergarten based on the following criteria
First come first serve
The age criteria for KiDeens which we strictly adhere to is (please do not request otherwise)
Toddlers: Born on or before 30th June 2017

Playgroup: Born on or before 30th June 2016
LKG: Born on or before 30th June 2015
UKG: Born on or before 30th June 2014
Physical and mental fitness such that the child can seamlessly integrate into the class.
There is verbal interaction with children for applicants of LKG and UKG
A shared belief for the education of the child between parents and the School
On passing the selection process a letter of confirmation is sent to the parent. Within 3 working days of confirmation, the processing fee and first installment of the academic fees needs to be paid to enroll the child into the school.

The fee payment needs to be done through Demand Draft or online payments
The bank transfer details are as follows
Name of Beneficiary : DEENEST
Bank Name: AXIS BANK LTD
Branch; MARATHAHALLI – BANGALORE
Account Number: 917020011569375
IFSC Code: UTIB0000300
Account Type: Current
After completing the transaction, we request you to send the details of remitted particulars to accounts@deensacademy.com along with the scanned copy of the declaration form
Name of campus : KDRH
Transaction Receipt No:
 Date of Transaction.
Amount of Transaction:
Name of the Student:
Class of the Student:
Fee component : 1st /2nd/3rd
Fee structure and schedule of payments for 2019 -20 is as follows:
KiDeens Ramagondanahalli- Payment of fees in Rupees
Grade
Component 1
Component 2
Component 3
Total
Processing fees
Toddlers
50,000
27,000
13,000
90,000
25,000
PG, LKG, UKG
61,000
33,000
16,000
1,10,000
25,000
Last date of payment
Within one week of offer
September 5th2019
January 5th 2020
Within one week of offer