Our Motto is " On the Route to Excellence"
Our Team of Teachers strives to achieve excellence by
Providing  a stimulating atmosphere that sparks exploration and creativity

Experiential learning  in a versatile curriculum which will help unlock every student's hidden potential and foster growth

Providing a balanced blend of academic and cultural elements that reinforces the larger objective of providing a well-rounded and holistic education.
Our team of  well qualified passionate teachers are a closely knit and work in tandem to achieve this Deens vision.
If you aspire to be a part of this zesty, multifaceted, talented team you could fill in our online recruitment form 
Here is a brief glimpse of our wonderful team of Facilitators
---
Mr David Arun- Student counsellor & Faculty for Psychology: Mr. David's core values lies in transforming the lives of students by nurturing their cognitive abilities and bringing about balance in their emotional well being. He believes 'every child can learn' and strives towards reintegrating excluded students back into the general-school system coupled with a desire to impart sound knowledge and understanding of the world for students apart from the general framework of academia. 
An experienced psychologist with valued experience as a special educator and behavioral therapist  in education, therapeutic centres and other sectors as well. He is proficient in psychological counseling, applied behavior analysis, special education and classroom teaching as well. Apart from his professional career, Mr. David is well known for his  in-depth understanding and reputed history in the Sports Industry (football), where he has secured numerous awards while playing professional football recognized by the state of Karnataka, he has also achieved numerous awards in athletic track events. 
Mr. David is a mental healthcare professional with an M.Sc. in Counseling Psychology from Global School of Counseling, Bangalore – India.
---
Rucheka Chakravarty – Faculty for Political Science and History. An educationist through and through. She believes that she can be the change she wants to see around her. With a Master's in English Literature and a B.Ed she has been mentoring children for the last 25 years and feels that learning never stops. Students rely on her for keeping them in touch with their present and past as she handles Political Science and History for PUC Humanities. Her mantra is "Discipline is the bridge between goals and accomplishments" and this reflects in her commitment to her students and the institute.
---
Ms Chandra Padmanabhan: College Principal & Faculty for Accountancy
After a brief corporate career in Finance and educating her colleagues in corporate policy, she finally found her calling in the field of education, mentoring students in Commerce subjects in college. As she herself achieved distinction in her B.Com degree she felt the need to ensure that students have a stronger base right when they begin their pursuit of education in this subject.
Strong education professional with a Masters degree in Commerce and Education (M.Com, M.Ed). As a passionate educationist she has worked at different roles as faculty of Accountancy (Grade 11&12), Head of Commerce Department at leading CBSE schools and Coordinator & Principal of a Pre-University College in Bengaluru since its inception.
She believes to make a positive, constructive impact in the field of education with her experience of teaching, administrative, teacher mentoring and team building skills. . As an educationalist she wants to induce the 21st century dynamic skill among the students (teenagers) and promote students' achievements in all spears. Her objective is to impart stress free/illuminating education with a holistic approach for the all-round development of the future.
She is a wildlife enthusiast who finds joy in greenery and untouched views of nature that makes her a seasoned hiker.
---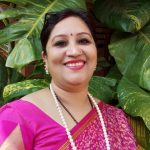 Ms  Neeta Goswami: Faculty for Hindi A vivacious lady with a warm demeanour, Ms Neeta is the winner of most Innovative Teacher award in Hindi last year in the Times Foundation teacher awards (TAFIT). She ensures that she offer maximum support for every child to excel under her care. She has multiple post graduate degrees like M Com, MA, M Ed, PGDMM (Post Graduate Diploma in Marketing Management),  NTT along with Early Childhood Care and Education (ECCE) diplomas. She also worked for various NGOs in the education field. Known for making Hindi a more interesting and easier subject for many years at our school. She now hopes to achieve the same with the PUC students.  She has a passion for cooking creatively and enjoys value based education.
---
Dr. Manasi Naik : Faculty for Hindi
A self-motivated and dedicated teacher with a passion for language and linguistic sciences. With 12 years of enriching experience in the field of education, she pursued further studies and completed  her Ph.D. in Hindi literature too. Her research papers and articles are published in various forums. Being a passionate reader and occasional writer she is always busy in language and literature related activities. Her student-centered and friendly approach of teaching has helped students  overcome their fear of different languages.
---
Ms Pradeepa K: Faculty for Biology: A young and enthusiastic individual, she is very passionate about teaching as she believes that this gives her an amazing opportunity to mould young minds and shape their future. She strongly feels that while teaching must focus on learning and performance improvement of her students, it is also absolutely important that their creativity and curiosity are given wings. With a Masters in Botany and B.Ed. in Biology & Chemistry, she has a teaching experience of more than 8 years. She started her career by teaching Environmental Science to Bachelors Students at the prestigious St. Joseph's College, Bangalore. In her former roles at other schools, she had the opportunity to head the Biology Department at a very young age, work as an Advisor to the Nature & Science Clubs, and also be part of the Schools' Disciplinary Committee. She was also a Basketball player and a NCC cadet.
---
Ms Sravani Compli- Faculty for Chemistry : Ms Sravani believes "Education is not to reform students or amuse them or to make them expert technicians, it is to unsettle their minds, widen their horizons, inflame their intellects, teach them to think straight, if possible". Ms Sravani is a motivated, enthusiastic educator with proven results in curriculum management. She has over seven years of rich experience facilitating secondary and senior secondary level students of varying backgrounds.   Proficient in different teaching methods , she adapts easily to diverse learning patterns to achieve educational success. She is also skilled in laboratory techniques and safety procedures and enjoys  facilitating hands-on learning opportunities. She collaborates well and is a team player who fosters a cohesive student learning atmosphere.
She has secured a Masters degree in organic chemistry with a professional degree in education. She has taught at various ed tech companies like Aakash, Byjus, Unacademy and NIIT
---
​

Ms. Shruti Nair – Faculty for Physics
Ms Shruti believes , "Every job is challenging, but being a teacher is so worth it. This is because as a teacher I get to help the future generation learn more about a topic that I love".
Ms Shruti is very adaptive always ready to Learn, Unlearn and Relearn,  always striving to make her subject more interesting for students.  She believes, learning doesn't happen only in classrooms and hence provides her students as many experiential projects as possible for better understanding of the concepts taught.
She completed her Msc in Physics along with a professional degree in education. With a work experience of 9 years she has held important posts like academic and examination in-charge. Prior to joins Deens she worked as a Coordinator for Secondary and Senior-secondary sections.
Here she looks forward to make her classroom sessions an interactive space for students to share their ideas and explore the subject.
---
Ms Pushpica- Faculty for Economics: A warm smile and a positive attitude is the signature style of Ms Pushpica our Economics teacher. She has spent the last 6 years teaching Economics in higher grades of various schools and colleges. Her group sessions and activity based classrooms ensure student engagement.  She has a MA degree in Analytical and Applied Economics from Utkal University Bhubaneshwar. She looks forward to helping students become productive and successful citizens.
---
Ms Priyanka K N- Faculty for Mathematics : Our Multitalented Maths teacher is a picture of positivity and zeal.  Though she began her career as a guest faculty at an engineering college which has a A grade National level accredition she enjoys teaching younger children the basics in Grade 11 and 12 better. She has been a senior teacher of Mathematics at Deens Academy for the last 4 years. She has a Masters degree in Mathematics along with a Bachelors degree in education. She also pursues an interest in Carnatic music and was a champion district level Badminton player in her school days. Always in the pursuit of fresh new ideas and technologies she ensures her classes are delightful for her students.
---
Sahaya Bobby- Faculty for English :A Cheerful go-getter with good organizational and interpersonal skills, works with diverse groups for organization needs and an aspirational change maker in student lives. She brings her real-life experience as a mother to wonderful daughters to have an understanding and empathy in the classroom. She has a M. Phil in English along with a Bachelor's degree in Education. She has a special interest in narrative literature and poem recitation, she intercedes life lessons as part of class sessions. Has an Artistic outlook with special focus on crafts and storytelling.
---
Ms. Rini Muraleedharan – Faculty for Computer Science:A seasoned teacher with 12 years of experience at The Deens Academy. She is a team player, who excels in promoting collaborative work among teachers and students. She takes great pride in her responsibilities and ensures excellence in the quality of the Computer Science curriculum at Deens, being the Subject coordinator for the subject for Grades 1-10.
She fosters responsibility and empathy in students, both qualities needed for their all-round development. She has a friendly and cheerful demeanor. Currently she is also working with the Student Council.She nurtures leadership qualities in students with activities like Model United Nations (MUN) which she has been coordinating for the last 5 years at Deens. She also promotes empathy in her students with her exemplary work in the Rotary interact club & SEWA.She has both BE and MBA degrees. Prior to joining Deens, she worked in the corporate sector with work experience in Manufacturing and Marketing IT products.
---
Mr Shashikumar-Faculty for Kannada : Information is the key to success is the principle on which our Kannada teacher operates on a daily basis. He is an avid reader and enjoys filing interesting articles from Newspapers which he like to share and discuss with his students. Along with a Masters in Kannada he also holds a Masters degree in Economics along with a Bachelors in Education. He is athletic and enjoys sports- Cricket and Badminton in particular. He ensures his students are updated with the latest information to guarantee their success in academic as well.
---
Mr Rajesh Nair- Faculty for Physical Education: Our Sports teacher is a champion swimmer and scuba diver. He has been coaching children into successful sports careers at Deens Academy for over a decade and outside for the last 2 decades. He holds Bachelors degree in Humanities and Physical education. He is also accredited by the American Swimming Coach association and also holds  a Post graduate diploma in Sports Physiotherapy. One of our most lovable and trusted employees, he provides the children the necessary relief and excercise to ensure an active body for a healthy mind.
---
Ms Heena Malik- Faculty for Accountancy & Business studies: 
Making difficult situations look effortless is a skill that is natural to Ms Heena Malik. Through her warm demeanour she ensures students relate easily to the vast and extremely volatile subject of Business studies. Through group discussions and techniques like roleplay for interview handling and public speaking, she makes sure students are connected to the real world's rapidly changing business environment.
After a brief stint as a relationship manager with the banking sector, Ms Malik found her passion in teaching and has been a facilitator for Senior secondary students for over 10 years now. She comes equipped with multiple post-graduate degrees of MBA and MA( Business Economics) along with being  a rank holder in both  Bcom( honours) and BEd .
Her goal is to ensure students have a sustainable zeal for continuous learning, by grooming their overall personality in the right direction, preparing them to face future challenges and become leaders of tomorrow.
---
Ms Ranjeeta Swain-Librarian: Our joyful librarian's easy going nature ensures children find it easy to access their reference material in the library. She holds a Masters Degree in Library and Information Science.  Along with Books Ms Swain also experiments with Knitting and stitching. She looks forward to inculcating the love for books and reading among the young PU students