Our Motto is " On the Route to Excellence"
Our Team of Teachers strives to achieve excellence by
Providing  a stimulating atmosphere that sparks exploration and creativity
Experiential learning  in a versatile curriculum which will help unlock every student's hidden potential and foster growth
Providing a balanced blend of academic and cultural elements that reinforces the larger objective of providing a well-rounded and holistic education.
Our team of  well qualified passionate teachers are a closely knit and work in tandem to achieve this Deens vision.
If you aspire to be a part of this zesty, multifaceted, talented team you could fill in our online recruitment form 
Here is a brief glimpse of our wonderful team of Facilitators
---
Charlotte Roslin Soans: Student counsellor & Faculty for Psychology:  She believes that holistic healing has always proved beneficial and durable in an individual's life. Having been practiced as a counseling psychologist for decade she highly recommend and advocate for a family time which in return helps in an overall development in a child's life as well as for the members in the family. As a practicing  counselling psychologist, shes shares professional experiences with students and bringing together the theory and practical information to students in a package that helps in understanding the subject matter in depth. In order to provide students with an opportunity to showcase their learning, student practitioner program was implemented, which can also be termed as a peer support group. Charlotte Rosline Soans holds bachelor's degree in Psychology, Criminology and Master's degree in Holistic psychological counseling from School of social work, Roshini Nilaya. She began her career as a counseling psychologist for 2 years and then Worked as Child life practitioner at Manipal hospital Bangalore for 8 years. She represented India as an award recipient during the 31st Annual conference on professional issues at Denver, Colorado United States by Child Life Council.
---
Rucheka Chakravarty – Faculty for Political Science and History. An educationist through and through. She believes that she can be the change she wants to see around her. With a Master's in English Literature and a B.Ed she has been mentoring children for the last 25 years and feels that learning never stops. Students rely on her for keeping them in touch with their present and past as she handles Political Science and History for PUC Humanities. Her mantra is "Discipline is the bridge between goals and accomplishments" and this reflects in her commitment to her students and the institute.
---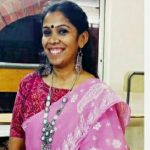 Ms Chandra Padmanabhan: College Principal & Faculty for Accountancy Within vibrant and energetic persona is a teacher whose grit and patience will ensure every child and team member in her supervision gives their best for a positive outcome. Our Principal, Ms Chandra is an amateur marathon runner and badminton player. This dynamic lady began her pursuit of a career in education at a young age when she assisted her mother in home tuitions as a teenager. After a brief corporate career in Finance and educating her colleagues in corporate policy, she finally found her calling in the field of education, mentoring students in Commerce subjects in college. As she herself achieved distinction in her BCom degree she felt the need to ensure that students have a stronger base right when they begin their pursuit of education in this subject. This led her to join Deens Academy to teach younger children in Pre-university level.
---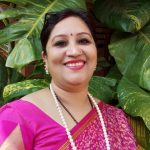 Ms  Neeta Goswami: Faculty for Hindi A vivacious lady with a warm demeanour, Ms Neeta is the winner of most Innovative Teacher award in Hindi last year in the Times Foundation teacher awards (TAFIT). She ensures that she offer maximum support for every child to excel under her care. She has multiple post graduate degrees like M Com, MA, M Ed, PGDMM (Post Graduate Diploma in Marketing Management),  NTT along with Early Childhood Care and Education (ECCE) diplomas. She also worked for various NGOs in the education field. Known for making Hindi a more interesting and easier subject for many years at our school.She now hopes to achieve the same with the PUC students.  She has a passion for cooking creatively and enjoys value based education.
---
Ms Sonia Ahuja: Faculty for Biology A sincere, enthusiastic person with a penchant for punctuality. She is Goldmedalist in MSc. Botany and stood first in her college. She was a merit holder in her batch at University. She has been mentoring children for a career in Biology for the last 14 years. Her sparkling personality compliments her interest in painting and gardening. She is a valuable member of the team of teachers who will be facilitating our Science students in the Pre-University course.
---
Ms Rupa Balasubramani- Faculty for Chemistry : An extremely diligent, resourceful and approachable teacher  our Chemistry teacher, encourages children to work in collaborative activities to understand their concepts better. She has been a favorite teacher for our senior grades for the last 2 years. Before joining our organisations she has been teaching Chemistry for over a decade in various leading organizations. An avid reader she also holds a post graduate degree in Sciences. Her jovial outlook and steadfast encouragement will  assist young PUC students prosper under her supervision.
---
Ms Jeyasri Arun Prasath- Faculty for Physics :  Ever smiling, cheerful and enthusiastic, our Physics teacher is a student oriented, approachable person. Ms Jeyasri has always been a exemplary student She was a  Gold medalist ( University First rank holder) in Msc Physics,  she was the University 2nd Rank for  MPhil ( Physics) and 4th rank in college for Bsc (Physics). She also holds an MBA degree along with PG diploma in Computer Applications and a Bachelors degree in Education. She has taught Physics to M.Sc and B.Sc students in leading degree colleges She has been a science teacher with a decade long experience in leading schools. She enjoys playing chess in her free time. Her focus is on finding new methodologies and ensure children pursue their studies in a joyous atmosphere at school.
---
Ms Pushpica- Faculty for Economics: A warm smile and a positive attitude is the signature style of Ms Pushpica our Economics teacher. She has spent the last 6 years teaching Economics in higher grades of various schools and colleges. Her group sessions and activity based classrooms ensure student engagement.  She has a MA degree in Analytical and Applied Economics from Utkal University Bhubaneshwar. She looks forward to helping students become productive and successful citizens.
---
Ms Priyanka K N- Faculty for Mathematics : Our Multitalented Maths teacher is a picture of positivity and zeal.  Though she began her career as a guest faculty at an engineering college which has a A grade National level accredition she enjoys teaching younger children the basics in Grade 11 and 12 better. She has been a senior teacher of Mathematics at Deens Academy for the last 4 years. She has a Masters degree in Mathematics along with a Bachelors degree in education. She also pursues an interest in Carnatic music and was a champion district level Badminton player in her school days. Always in the pursuit of fresh new ideas and technologies she ensures her classes are delightful for her students.
---
Sahaya Bobby- Faculty for English :A Cheerful go-getter with good organizational and interpersonal skills, works with diverse groups for organization needs and an aspirational change maker in student lives. She brings her real-life experience as a mother to wonderful daughters to have an understanding and empathy in the classroom. She has a M. Phil in English along with a Bachelor's degree in Education. She has a special interest in narrative literature and poem recitation, she intercedes life lessons as part of class sessions. Has an Artistic outlook with special focus on crafts and storytelling.
---
Ms Swathi Ajjarapu- Faculty for Computer Science:Our diligent computer teacher's gentle demeanor is behind the success of many Grade 10,11 & 12 students in Deens Academy for the last 4 years. She is a team player and excels in promoting collaborative work among her students. Before joining Deens Academy she worked as an assistant professor for Reputed Engineering college and as a software developer. Equipped with a MTech degree in Computer Science, Ms Swathi  also oversees the Parent portal ERP for the school. Her patience and perseverance ensures her students excel in the chosen subject.
---
Mr Shashikumar-Faculty for Kannada : Information is the key to success is the principle on which our Kannada teacher operates on a daily basis. He is an avid reader and enjoys filing interesting articles from Newspapers which he like to share and discuss with his students. Along with a Masters in Kannada he also holds a Masters degree in Economics along with a Bachelors in Education. He is athletic and enjoys sports- Cricket and Badminton in particular. He ensures his students are updated with the latest information to guarantee their success in academic as well.
---
Mr Rajesh Nair- Faculty for Physical Education: Our Sports teacher is a champion swimmer and scuba diver. He has been coaching children into successful sports careers at Deens Academy for over a decade and outside for the last 2 decades. He holds Bachelors degree in Humanities and Physical education. He is also accredited by the American Swimming Coach association and also holds  a Post graduate diploma in Sports Physiotherapy. One of our most lovable and trusted employees, he provides the children the necessary relief and excercise to ensure an active body for a healthy mind.
---
Ms Rakhi Agrawal- Faculty for Accountancy & Business studies:  An outgoing optimist Ms Agrawal is our perfect Business Studies teacher. She is a passionate writer and encourages her students to speak up with confidence and clarity.  She is a Commerce graduate and a Chartered Accountant. She looks forward for making a difference on impressionable young minds attending Pre- University college.
---
Ms Ranjeeta Swain-Librarian
: Our joyful librarian's easy going nature ensures children find it easy to access their reference material in the library. She holds a Masters Degree in Library and Information Science.  Along with Books Ms Swain also experiments with Knitting and stitching. She looks forward to inculcating the love for books and reading among the young PU students