The Deens Academy 's vision is to empower each child to achieve academic, physiological and artistic excellence through, a creative outlook and a balanced point of view, in an environment that is stimulating, challenging and grounded in values. Every child passing out of The Deens Academy is a complete individual, ready to meet the challenges of an ever-changing global environment.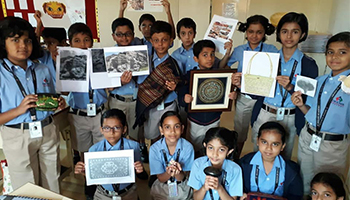 Admissions to the Deens Academy Whitefield are done throughout the year where ever there is a vacancy. As we are not adding new sections to this campus, new admissions will therefore be based  purely on seats vacated due to transfers. Kindly mail us in 1st January 2019 for waitlisting and processing admissions for next academic year
This process  is managed by the admissions officer who can be contacted by email, admissions@deensacademy.com or by telephone at the Gunjur campus 7676617788, 9845008461, 7338452405 / 7338452406 She will assist you during the admission process.
For the available seats the admission officer will send you a link where you can fill in the application which can be submitted online.We will not entertain applications from other branches on the basis of request to transfer into the Whitefield campus in the future.
---
The selection procedure is as follows : 
Applications are processed based on the following criteria
First come first serve ( based on application numbers )
Applicants for grade 1-9 will need to undergo a diagnostic assessment to determine the child's academic level .
Applicants will be tested on the previous year's first term syllabus .
The syllabus details of the subjects per grade applied for is as follows
Grades 1-4: English, Math and 2nd Language
Grades 5-9: English, Math, Science and 2nd Language
Applicants for Grade 11 will be tested for their chosen stream. Grade 11 details
The selected candidates will then be called for an interaction with the Principal.
d)The interview focuses on
Physical and mental fitness such that the child can seamlessly integrate into the class.
A shared belief for the education of the child between parents and the School
e)On passing the selection process a letter of confirmation is sent to the parent. Within one week of receipt the processing fee and first installment of the academic fees needs to be paid to enroll the child into the school.
The fee payment needs to be done through Demand Draft or online payments
Details are as follows:
Name of Beneficiary : DEENS EDUCATIONAL TRUST
Bank Name: AXIS BANK LTD
Branch: MARATHAHALLI – BANGALORE
Account Number: 300010100009904
IFSC Code: UTIB0000300
Account Type: Saving
After completing the transaction, You would need to send the following details to accounts@deensacademy.com along with a signed copy of the
 for admission
Transaction Receipt No:
Date of Transaction.
Amount of Transaction:
Name of the Student:
Class of the Student:
A welcome letter from school seals the process of admission.
Fee structure and schedule of payments for the academic year 2019-20 will be as follows:-
DEENS ACADEMY ECC ROAD- Payment of fees in Rupees
CLASS
Component 1
Component 2
Component 3
Total
Processing fees
Grades I to X
82,000
44,000
22,000
1,48,000
25,000
Last date of payment
At the time of admissions
5th Sept 2019
5th Jan 2020
At the time of Admission